Today: We love the way the new exclusive marble boards from Vermont Lifestyle look, so we were thrilled to find out how useful they are when we asked both the co-founder of Vermont Lifestyle, Marsha Hemm, and our own Test Kitchen Manager, Erin McDowell, for their tips.
In a dream world, our entire kitchen counter would be marble. Theres something about the natural stone with its interlocking mosaic of crystals thats sleek but also inviting. But tearing up existing counters can be pricey, to say the least: The average upscale kitchen remodel costs around $80,000, with countertops accounting for 10% of that cost, and marble countertops can cost up to $250 per square-foot.
While these numbers are daunting, we didnt want to limit the only marble in our kitchen to cake frosting and DIY planters—so we partnered with Vermont Lifestyle to come up with an alternative: white marble boards quarried from marble in Danby. Offered in two sizes, the boards are large enough for all baking and serving needs, but are small enough to fit right on top of your existing countertop or dining table. We spoke to both the co-founder of Vermont Lifestyle, Marsha Hemm, and our own Test Kitchen Manager, Erin McDowell, for the reasons they love putting marble boards (and countertops) to use in the kitchen:

Erin rolls out a pie crust on a marble surface.
1. They make the perfect dough.
Dough can suffer from a number of issues if it isnt the right temperature: Warm bread dough can result in a sour, yeasty loaf, while buttery pastry and pie dough can become impossible to work with as the butter melts. Marble surfaces can help moderate the temperature—especially in the summer when a hot oven can make an already-warm kitchen sweltering. Erin says, Marble feels cool to the touch—and to your food—about 7º F cooler than room temperature, to be more precise. Pastry hardly sticks to it. Because of marbles naturally smooth surface and the fact that its made out of calcium-carbonate, it has natural anti-caking agents, says Marsha, Its almost like a natural teflon for rolling out dough—you only need a tiny bit of flour! 
2. Marble is ideal for much more beyond dough.
Erin says, Marbles a good multi-purpose surface for a variety of reasons. She prefers to make her pasta dough straight on the surface and uses marble for tempering chocolate: The process requires cooling chocolate to the correct temperature, so cooling some of the chocolate on the marble is perfection. On the flip side, Marsha even recommends using marble to keep food warm. She says to warm up the marble at 200º F in your oven, move it to the countertop, and top with breads or anything you want to keep warm. Marble is heat-safe as long as it doesnt come into direct contact with a flame, so its very flexible.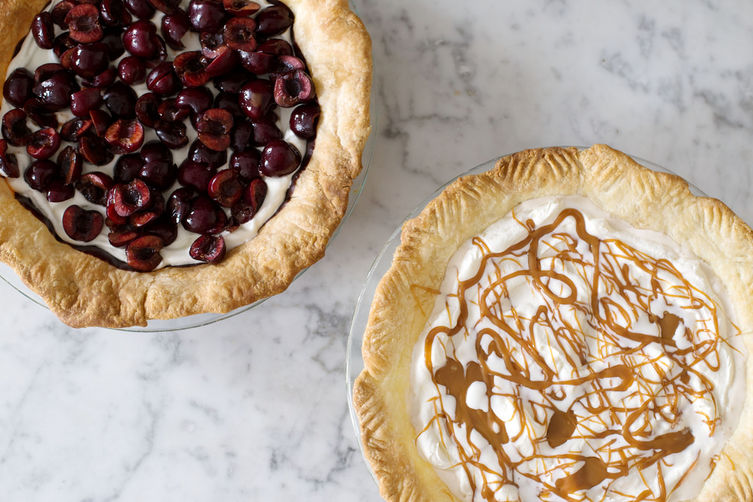 Once youve completed your pie, marble is the perfect surface to photograph it on. (Say cherries!)
3. Marble makes food photography beautiful.
As a part-time food stylist, Erin often shoots on marble. She says, Marble is very on-trend right now for food photos. For one thing, it can be used in process photography or how-tos, because its a material that so often exists in real kitchens. Most importantly, though, its color and look provide a simple, classic background in food photos. And while the Vermont Lifestyle boards are matte, inhibiting reflective glares in photographs, they sparkle more than other marbles due to their flat platelets, as opposed to the round platelets in Italian marble.
More: Take a look at some of our favorite shots on marble for inspiration, including this Genius trick, these lavender sachets, and this roast chicken.
4. Theyre easy to clean.
Because marble isnt porous like wooden countertops and boards, its easy to clean. Erin says, A soft cloth or sponge and warm water are really all you need, but a made-for-marble spray cleaner is great too. To really keep up appearances, you can also opt for marble polish (though if youre using one, make sure that its food-safe)! Marsha, who prefers cleaning marble with just plain water, suggests rejuvenating the colored veining by rubbing a bit of olive oil into it if the color seems to have faded.
5. Marble is beautiful.
Erin says, Marble has such a cool, simple, sleek look. Its a blank palette that allows food and products to really shine. Plus, like Amanda says, it looks like blue cheese. (Which is always a good thing in our book.) Marsha adds that you dont have to look any further than some of Americas greatest national monuments to understand the beauty of Vermont marble, which is the same used in the Tomb of the Unknown Soldier and in the Jefferson and Lincoln Monuments. Part of its popularity is due to the natural blue-gray and brown veining found in Vermont marble, formed over the course of over 150 million years. Some boards even include slightly pink crystals that dont exist in any other marble.
6. Theyre simple to take care of.
Some people are hesitant to embrace marble boards because they can be fragile, but with proper care, they can last forever. All you need to do is follow a few simple steps: Wipe up spills immediately, dont let them sit in water, and dont place hot food directly on top of them, as this can make them crack! In short, treat them with love and theyll love you back.

Vermont Lifestyles marble boards are available in the Food52 shop in two different sizes.
7. Theyre great for parties.
Marble is the ultimate party sidekick for serving cheeses and other small appetizers. Our Account Executive, Kristina Wasserman, who owns the large board says, Hours before hosting a party, I place cheese on it, then put the whole thing in the refrigerator until guests arrive. When they do, I put out the cheeseboard—the chilled marble keeps cheese from melting and losing its shape throughout the evening. (Marsha suggests writing the names of cheeses directly onto the board with a charcoal pencil!)
When Kristina isnt hosting a party, her marble board lives on her bar cart with a plant on top—theyre just too pretty to keep out of sight.
What are some of your favorite ways to use marble boards? Tell us in the comments below!
First and last photos by Bobbi Lin; second photo of rolling out dough by Sarah Stone; all others by James Ransom